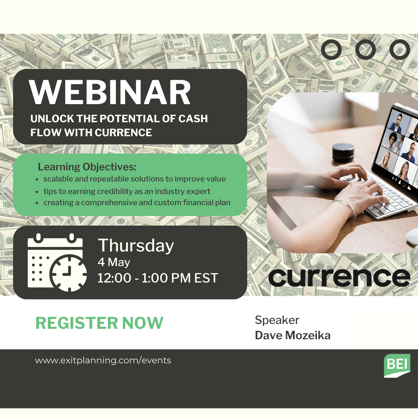 Unlock the Potential of Cash Flow with Currence
Register for an upcoming webinar with BEI's latest strategic alliance, Currence, to learn proven ways to provide the best financial guidance to your clients by starting at the foundation. As part of the BEI Network, you understand the importance of focusing on the long-term relationship, and not just showing up when your client is ready to invest. Currence will share in this presentation all the ways to help you and your clients make more money – and more importantly, how to get it.
Join this webinar with esteemed guest, Dave Mozeika, to explore the ways to uncover the potential of your client's cash flow and create a long-lasting engagement that ensures lifetime value. In this presentation, you will learn:
Efficient solutions that are scalable and repeatable across a wider range of clients

How to get more immediate results for clients that directly demonstrate your significance as an Exit Planning Advisor
Ways to see a more comprehensive view into clients' finances to customize and create an individualized plan

Tips to earning instant credibility with Currence's renowned, industry-leading platform
Don't miss this chance to learn from industry experts and take away key insights on how to shift your client's money mindset when it comes to unlocking their greatest value potential.
Register today and join us on Thursday, May 4 at 12:00pm EST.